SELF-ADHESIVE BITUMEN ROLLS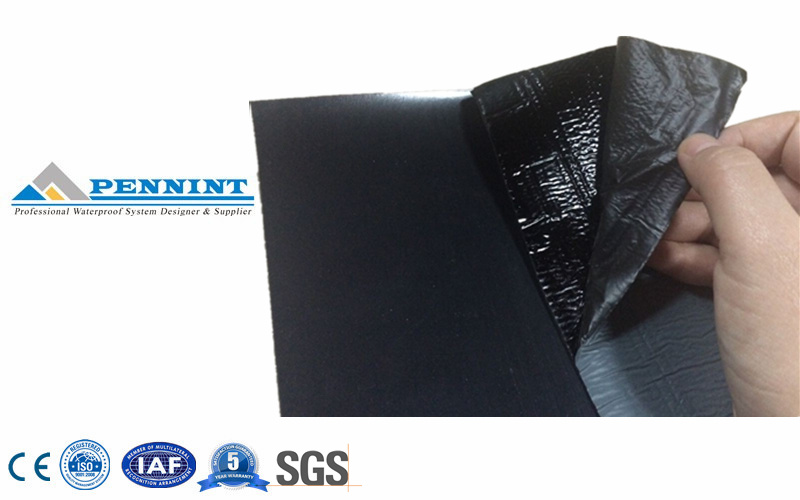 | | | | | | |
| --- | --- | --- | --- | --- | --- |
| EN standard | Length | Width | Coverage | Thickness | Roll weight |
| EN1848 | 20m | 1.0m | 18.28m2 | 1.2mm | 32.4kg |
PRODUCT
STICKFLAT MEMBRANE
is a self-adhesive, flexible bituminous waterproof membrane based on top
quality bitumen adhesive mixture, top surface covered with high density polyethylene(HDPE)
sheet/PE film/aluminum film, bottom surface protected by PE release film, specially designed for non-exposed roofs and basement structure waterproof projects.
Better self-cured performance;
Cold application without using flams;
Excellent flexibility for building structure shrinkage movement;
Excellent chemiacl resistance for aggressive soils and groundwater;
HDPE film with excellent tear and tensile strength, and puncture resistance performance;
Fully adhered to substrate and overlaped by itself adhesives for perfectly waterproofing effect;
Supplied in 20m2 rolls packed into cardboard box;
Store roll horizontal position,12months storage time from prevent damage;
Store rolls in a clean dry location, not exceed 45
ºC
,avoid sun-baked and rain,
and covered as necessary to protect from environmental damage, heat, cold or moisture etc.
Application temperature above -5
ºC
;
Will not work during rainy weather;
Substrate must be flat, sound and clean, without condensation and water on surface.