building material/ construction material/ roofing material / bitumen sheet/ SBS/APP bitumen waterproof membrane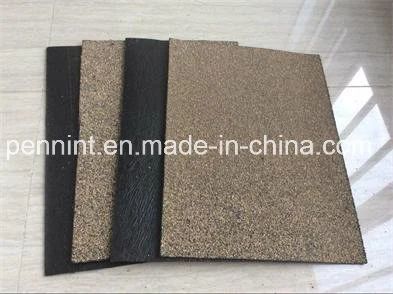 First image
| | | | | | | |
| --- | --- | --- | --- | --- | --- | --- |
| EN standard | Length(m) | width(m) | coverage(sqm) | thickness(mm) | roll weight(kg) | rolls/ pallet |
| EN 1848 | 10m | 1.0m | 9.1sqm | 4.0mm | 48kg/ roll | 25 rolls/ pallet |
Product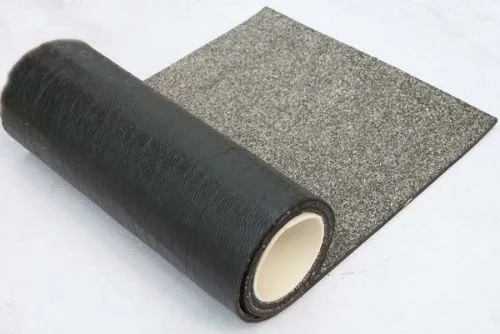 BITUFLAT SD4000 is an modified bitumen cap ply for approved Exposed roofing project,
made from polymer modified bitumen, and reinforced with composite glassfiber felt, with good
dimensional stability, topside is surfaced with aluminum foil, and underside is surfaced with
polyolefin film, torched application will be approved.
Characteristics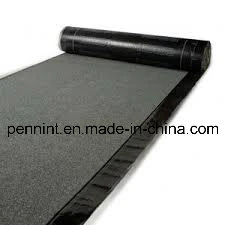 Manufactured in ISO 9001 certificated plant;
CE markimg;
High tensile and tearing strength;
Good dimensional stability;
Anti-corrosion, mildew resistant and weather resistant;
Hot melt construction, solid and long-lasting;
Storage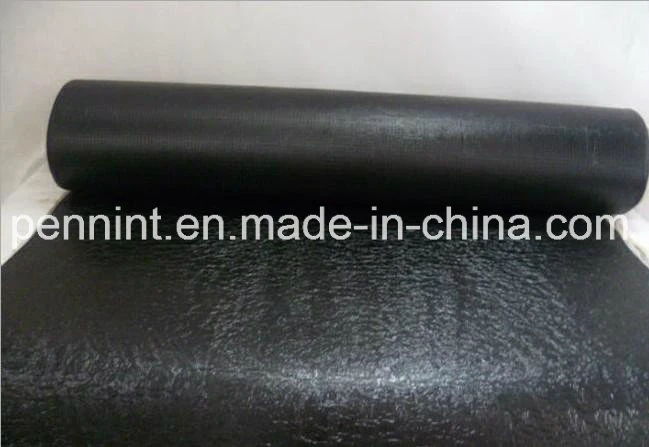 Store rolls on end and maintain in an upright position to prevent damage.
Avoid sun-baked and rain, store rolls in a clean dry location, not exceed 45ºC.
And cover as necessary to protect rolls from environmental damage, heat, cold or
moisture etc
Application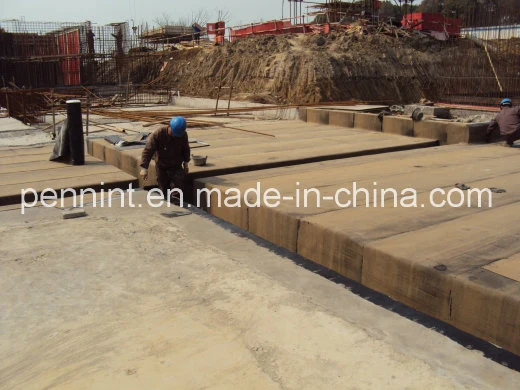 Before installation, unroll BITUFLAT onto approved substrate and allow to relax.
Keep BITUFLAT in desired position and back roll.
Then torched on BITUFLAT, and heat welded to approved substrate.
Package
Woven bag+ pallet
Ports
Qingdao / shanghai/ Tianjin/ others
Certificates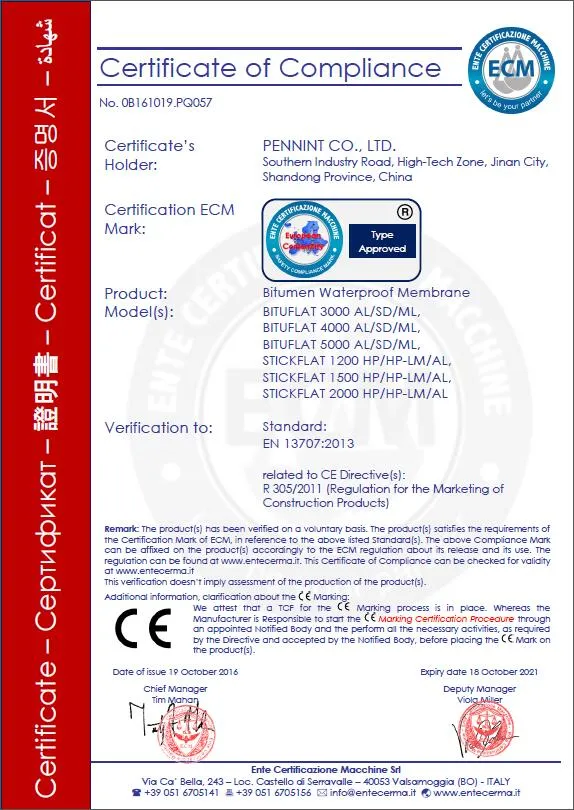 Technical Sheet
SHEET PROPERTY

Reinforcement

Composite glassfiber

Bitumen

Polymer modified bitumen

Topside surface

Aluminum sheet

Underside surface

Polyolefin film

Side lap (mm)

80

End lap (mm)

100
PHYSICAL PROPERTY

PROPERTY

SPECIFICATION

TESTING METHOD

Length m

10

±

1%

EN1848-1

Width m

1.0

±

2%

EN1848-1

Thickness mm

3.01.0

±

5%

EN 1849-1

Tensile strength N/50mm

Weft

450

EN12311-1

Warp

400

EN12311-1

Elongation at break %

15

EN12311-1

Tear strength N

150

EN12310-1

Resistance to static loading kg

10

EN12730(A)

Dimensional stability %

±

0.3

EN1107-1

Flexibility at low temperature

0

ºC

EN1109

Watertight

Pass

EN1928

Water vapor transmission

Pass

EN 1931
Free samples
Company Introduction
PENNINT is the most reliable and professional roofing & underground waterproofing system supplier, providing all kinds of waterproofing product,such as: modified bituminous membranes, PVC/TPO/EPDM synthetic membranes, self- adhesive waterproof membranes, and roofing shingles etc.
Why trust us?
1. Certificates: ISO 9001 & 14001, OHSAS 18001, etc.
2. Best quality (international standard) & Competitive price.
3. Best & professional service.
More detailes just contact Nancy freely.